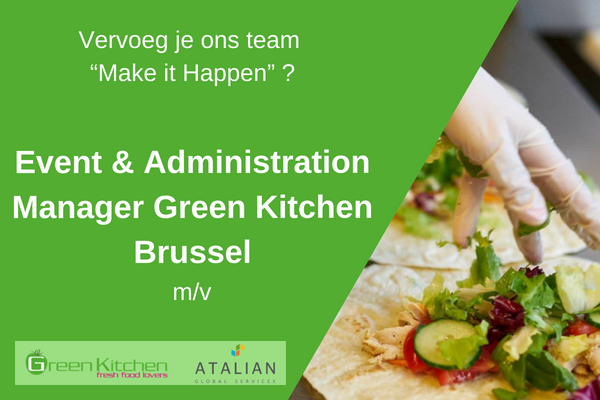 Event & Administration Manager Green Kitchen (M/V)
ATALIAN Green Kitchen is het concept van verse, BIO, natuurlijke en innovatieve keuken voor bedrijfsrestaurants of een directe leveringsdienst op uw werkplek.
Om zijn groei te ondersteunen en voort te zetten, is ATALIAN Belgium op zoek naar een gemotiveerde en ervaren M/V om de functie te verzekeren van:
Event & Administration Manager Green Kitchen (M/V)
Als Event & Administration Manager staat u in voor de strategiebepaling, de uitvoering en het beheer van evenementen op nationaal niveau voor al onze locaties (regio Brussel).
Taken en verantwoordelijkheden:
U garandeert een dienstverlening van hoge kwaliteit naar de klanten toe en een end-to-end vergaderingenbeheer met een "Make it Happen"-houding ⇒ van de marketing tot het beheer van het evenement,
U staat in voor en communiceert rond de tijdslijn, het budget en de rapportering van alle georganiseerde evenementen,
U beheert en plant de evenementen met een bijzondere aandacht voor detail en zo garandeert u een ongeëvenaarde klantendienst en klantenervaring,
U werkt samen met onze lokale Green Kitchen-teams om de uitvoering van het evenement in goede banen te leiden,
U communiceert uitstekend, zowel verbaal als geschreven,
U wordt verantwoordelijk voor de backoffice van Green Kitchen met een focus op de facturatie.
Kennis, ervaring en vaardigheden:
U behaalde een bachelor/master-diploma in administratie of hotelmanagement/Horeca,
U hebt kennis van HACCP en regels voor koude keuken,
U hebt minstens 3 jaar progressieve ervaring binnen evenementen, marketing, keuken,
Ervaring binnen een internationale omgeving is een troef,
U hebt kennis van de berekening van food cost,
U bent perfect drietalig: Nederlands, Frans en Engels,
U beschikt over geavanceerde Microsoft Office-vaardigheden (Excel, Word, PowerPoint, Outlook …),
U bent in staat het ruimere plaatje te zien, maar ook in te gaan op de details wanneer dit nodig is,
U hebt een rijbewijs B,
U hebt uitstekende sociale, communicatieve en rapporteringsvaardigheden,
U bent stressbestendig en u kunt werken onder lichte druk,
U bent flexibel wat uw werkuren betreft.
Wij bieden:
Een aantrekkelijk salaris met interessante extralegale voordelen,
Een dynamische en internationale werkomgeving,
De opportuniteit om uzelf te ontplooien en om relevante opleidingen te volgen.
Plaats van tewerkstelling:
België – Brussel
Geïnteresseerd?
Stuur uw cv en motivatiebrief naar:
Garwin Passeleur ⇒ garwin.passeleur@atalianworld.com