WINDOW AND FACADE CLEANING

Spotless
Throughout the country we help our customers with glass or façade cleaning. In easily accessible places or at 50 meters height. In addition to a flawless and punctual service, our safety approach is a priority. Our window cleaners all have a specific training to work safely and professionally under all circumstances: aerial worker, outdoor lift, mountaineering, …
Our customers: schools, shops, office buildings. We clean both outside and inside (counters, glass walls). We also give façades and windowsills (limescale, graffiti) a new look.
… and Safe
The basic safety certificate VCA is obvious. Also our window washers have followed and successfully completed the training IRATA 1. Of course, we master both traditional techniques and glass cleaning with osmosis technology. We can also take care of the repair or the maintenance of your suspended platforms and other equipment of work at height.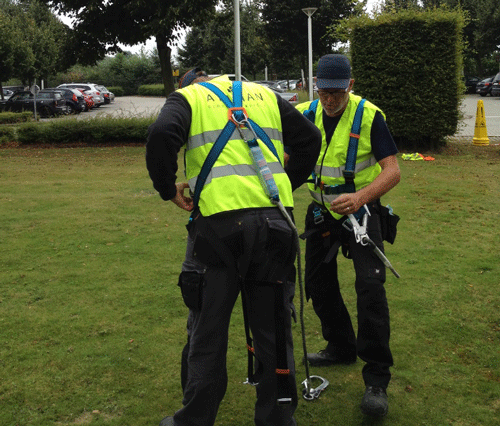 Clean windows reflect the image of your company, and safety is and remains a priority for everyone.
• Cleaning of facade glass / separation glass / internal glass walls / metal structures
• Cleaning atrium / shutters / illuminated signs / sectional doors
• Cleaning window profiles (inside and outside)
• Elevation work and mountaineering
• Placing protection nets
• Ecological methods (osmosis)
• First cleaning after work (delivery)
With years of experience and expertise in cleaning windows and windows, ATALIAN can offer you a tailor-made service in view of your safety regulations (VCA ** 2008/5 certification and SSPP).
• Comfort: scheduling the works / risk analysis carried out by us
• Value for money: invoicing for each execution after receipt of a work order
• Quality: you enjoy a quality service thanks to our innovative techniques, efficient and environmentally friendly products
• Expertise: trained specialists in high-tech work (VCA / IRATA certified)