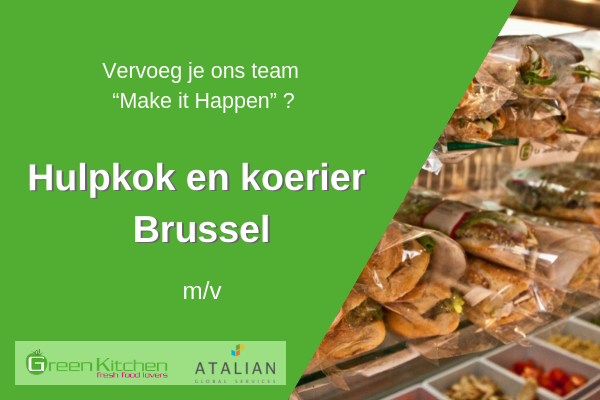 Hulpkok en koerier (Green Kitchen) (M/V)
ATALIAN Green Kitchen is het concept van verse, BIO, natuurlijke en innovatieve keuken voor bedrijfsrestaurants of een directe leveringsdienst op uw werkplek.
Om zijn groei te ondersteunen en voort te zetten, is ATALIAN Belgium op zoek naar een gemotiveerde en ervaren M/V om de functie te verzekeren van:
Hulpkok en koerier (Green Kitchen)(M/V)
Taken en verantwoordelijkheden:
U bent verantwoordelijk voor het bereiden van de koude gerechten;
Versnijden van groeten en fruit;
Broodjes klaarmaken volgens vooropgestelde recepten;
Verse slaatjes bereiden;
De werkplaats schoonmaken na gebruik;
Via ons informaticasysteem bestellingen opvolgen en klaarzetten;
Leveringen klaarzetten voor het transport naar de klanten;
Met de bestelwagen de bestellingen rondbrengen bij de klanten.
Kennis, ervaring en vaardigheden:
U hebt reeds ervaring in het bereiden van verschillende maaltijden;
U hebt oog voor detail;
U bent punctueel en betrouwbaar in uw werk;
U bent Nederlands of Franstalig met een goede kennis van de 2e landstaal;
U beschikt over een rijbewijs B
Wij bieden:
Een voltijds tijdelijk contract van 3 maanden met oog op een vast contract na die periode;
Een salaris volgens barema;
Uurrooster van 06u30 tot 14u, van maandag tot vrijdag;
Een dynamische en aangename werkomgeving.
Plaats van tewerkstelling:
België – Brussel
Interesse ?
Stuur je cv en motivatiebrief naar:
Jean Lejeune ⇒ jean.lejeune@atalianworld.com
Garwin Passeleur ⇒ garwin.passeleur@atalianworld.com