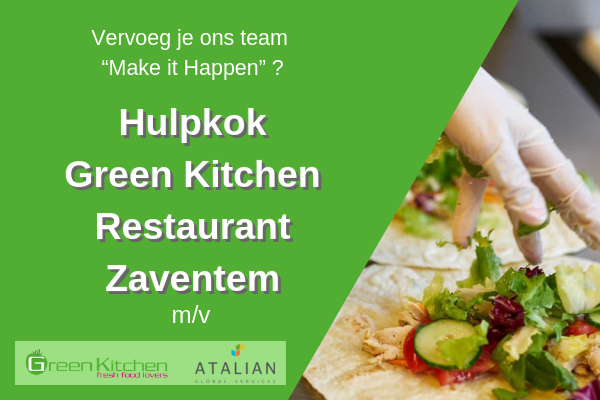 Hulpkok (m/v) Green Kitchen Restaurant – Zaventem
ATALIAN Green Kitchen is het concept van verse, BIO, natuurlijke en innovatieve keuken voor bedrijfsrestaurants of een directe leveringsdienst op uw werkplek.
ATALIAN Belgium op zoek naar een gemotiveerde en ervaren M/V om de functie te verzekeren van:
Hulpkok (m/v) Green Kitchen Restaurant – Zaventem
Voor een van onze bedrijfsrestaurants, gelegen te Zaventem zijn wij op zoek naar een hulpkok, die mee samenwerkt aan de bereiding van onze lekkere, verse gerechten en die ook het gedachtengoed van Green Kitchen 'Magic in a plate' mee realiseert.
Neem absoluut een kijkje op onze website: https://www.green-kitchen.be/nl/.
Taken en verantwoordelijkheden:
U bent verantwoordelijk voor het bereiden van de koude gerechten (salad bar, sandwiches, pastaslaatjes,enz…);
U zorgt voor een mooie presentatie op de borden 'magic in a plate' en bediend de mensen met een smile;
U zorgt dat de werkplaats na gebruik blinkt als een spiegel.
Kennis, ervaring en vaardigheden:
U bent Nederlandstalig met een goede kennis van de 2e landstaal;
U hebt reeds ervaring in het prepareren van verschillende maaltijden;
U bent commercieel ingesteld en hanteert het principe van klant is koning;
U hebt oog voor detail;
U bent punctueel en betrouwbaar en wat uw werk.
Wij bieden:
Een voltijds contract;
Een mooi salaris volgens barema;
Vlot uurrooster van 7u tot 15u of 8u tot 16u;
Een dynamische en aangename werkomgeving.
Plaats van tewerkstelling:
België – Brussel – Zaventem
Geïnteresseerd?
Stuur uw cv en motivatiebrief naar:
Werner Schuermans : Werner.Schuermans@atalianworld.com
Garwin Passeleur: Garwin.Passeleur@atalianworld.com