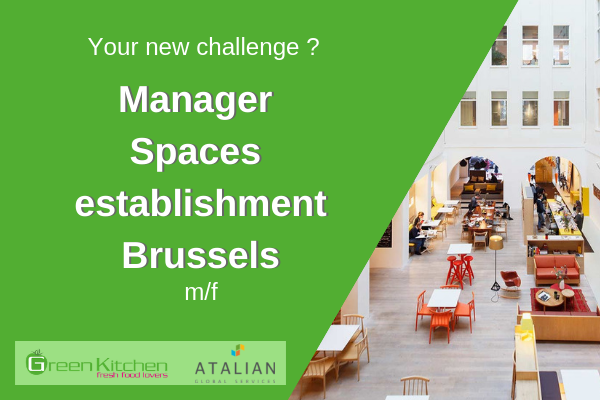 Manager for Spaces establishment (Green Kitchen) (M/F)
ATALIAN Green Kitchen is the concept of fresh, organic, natural and innovative cuisine for corporate restaurants or a direct delivery service at your workplace.
To support the company's measures to stimulate further growth, ATALIAN Belgium is looking for a driven and experienced M/F:
Manager for Spaces establishment (Green Kitchen)(M/F)
New opportunities arise from the horizon, Green Kitchen and ATALIAN are appointed to manage Spaces establishments (Brussels Area).
Present worldwide, SPACES combine workspaces, meetings and relaxation, with the aim of facilitating networking between the various occupying companies while offering a wide range of services and amenities, including catering facilities…It's a new way of working in our so rapidly changing environment.
More info about the project https://www.spacesworks.com/
Task and responsibilities:
You are responsible for the daily (operational and administrational) management of one of our Spaces establishments and ensure a smooth working environment,
You are responsible for the daily closing of the establishment (+/- 6pm) and insure that the cash register is correct,
You are responsible for keeping the stock and placing orders,
You will ensure the daily necessary food orders and will work closely with our own food production team,
If necessary, you are willing to help a hand in the production of fine, qualitative foods (like salads, quiches, risotto's…).
Knowledge, experience and skills:
You have minimum 3 years of progressive experience in the catering/horeca industry,
You obtained a bachelor/master's degree in a relevant field of study,
You are bilingual French / Dutch and have an excellent knowledge of English,
You have advanced Microsoft office skills (Excel, Word, PowerPoint, Outlook…),
You have a driver's license B,
You have excellent people-management skills, commucative and reporting skills,
You are able to multitask with a "hands-on" approach,
You have entrepreneurial spirit and flexible,
You are spontaneous, hospitality minded and love personal contact,
You are a good listener like a bar tender,
You have eye for detail,
You are creative and innovative,
You are energetic and go for that extra mile for guests and colleagues,
You are stress resilient and able work under slight pressure.
Our offer:
An attractive salary,
A dynamic and international work environment,
The opportunity to develop yourself and follow relevant trainings.
Place of employment:
Belgium – Brussels
Interested?
Send your CV and motivation letter to:
Matthias Hanssen ⇒matthias.hanssen@atalianworld.com
Jean Lejeune ⇒ jean.lejeune@atalianworld.com
Garwin Passeleur ⇒ garwin.passeleur@atalianworld.com